Recipes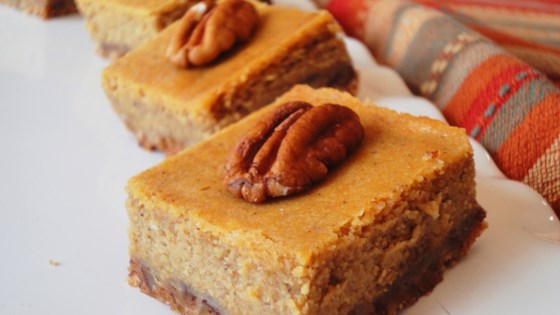 Pumpkin Cheesecake Bars
Crust:
1 1/2 cups all-purpose flour
1/2 cup butter, softened 1/4 cup white sugar
Cheesecake Layer:
8 ounces cream cheese
1/4 cup white sugar
1 egg
1/2 teaspoon vanilla extract
Pumpkin Layer:
1 (15 ounce) can pumpkin puree
1 (12 ounce) can evaporated milk
3/4 cup white sugar
2 eggs
3/4 teaspoon ground cinnamon
1/2 teaspoon salt
1/2 teaspoon ground ginger
1/4 teaspoon ground cloves
Directions:
---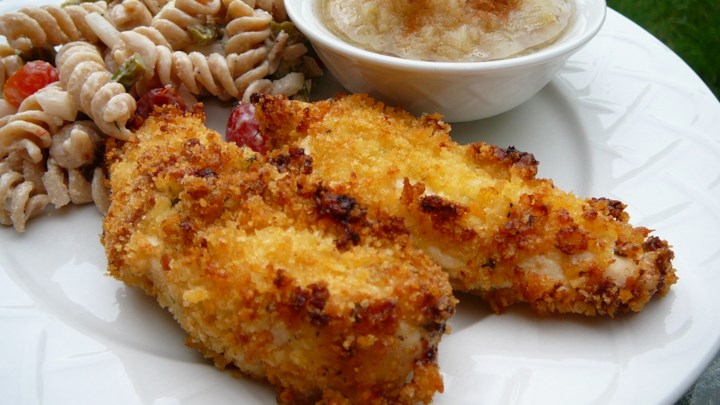 Italian Baked Chicken
3/4 cup mayonnaise
1/2 cup grated Parmesan cheese
3/4 teaspoon garlic powder
3/4 cup Italian seasoned bread crumbs
4 skinless, boneless chicken breast halves
Directions:
Preheat oven to 425 degrees F (220 degrees C).
In a bowl, mix the mayonnaise, Parmesan cheese, and garlic powder. Place bread crumbs in a separate bowl. Dip chicken into the mayonnaise mixture, then into the bread crumbs to coat. Arrange coated chicken on a baking sheet.
Bake 20 minutes in the preheated oven, or until chicken juices run clear and coating is golden brown.
---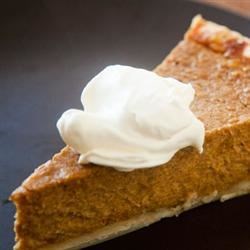 Pumpkin Pie
1 1/2 cups all-purpose flour plus
2 tablespoons all-purpose flour
2 teaspoons white sugar
1 teaspoon salt
1/2 cup canola oil
2 tablespoons rice milk
Filling:
1/2 cup white sugar
1/4 cup dark brown sugar
2 teaspoons ground cinnamon
1/2 teaspoon salt
1/2 teaspoon ground ginger
1/4 teaspoon ground nutmeg
1/4 teaspoon ground cloves
1 (15 ounce) can pumpkin puree
2 tablespoons canola oil
2 large eggs
1 teaspoon vanilla
1 1/4 cups rice milk
Directions:
Preheat an oven to 425 degrees F (220 degrees C).
Stir together the flour, sugar, and salt in a 9 inch pie pan, and make a well in the center. Pour the oil and rice milk into the well, then mix with a fork until a dough forms. Use your hands to press the mixture evenly into the bottom and sides of the pan. Crimp the edge of the crust.
Stir together the white sugar, brown sugar, cinnamon, salt, ginger, nutmeg, and cloves in a large bowl; set aside. Whisk together the pumpkin puree, oil, eggs, vanilla, and rice milk in a separate bowl until evenly blended. Add the pumpkin mixture to the dry ingredients and stir until fully blended. Pour into the prepared crust and place on a cookie sheet in the preheated oven.
Bake for 10 minutes. Reduce temperature to 350 degrees F (175 degrees C) and bake for 40 to 50 minutes or until a knife inserted near the center comes out clean. The center may still wiggle a little but will firm up out of the oven. Cool on a metal rack.
---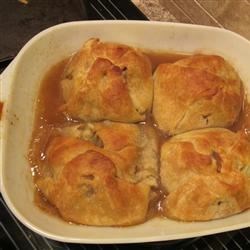 Old Fashioned Apple Dumplings
1 recipe pastry for double-crust pie
6 large Granny Smith apples, peeled and cored
1/2 cup butter
3/4 cup brown sugar
1 teaspoon ground cinnamon
1/2 teaspoon ground nutmeg
3 cups water
2 cups white sugar
Directions:
Preheat oven to 400 degrees F (200 degrees C). Butter a 9x13 inch pan.
On a lightly floured surface, roll pastry into a large rectangle, about 24 by 16 inches. Cut into 6 square pieces. Place an apple on each pastry square with the cored opening facing upward. Cut butter into 8 pieces. Place 1 piece of butter in the opening of each apple; reserve remaining butter for sauce. Divide brown sugar between apples, poking some inside each cored opening and the rest around the base of each apple. Sprinkle cinnamon and nutmeg over the apples.
With slightly wet fingertips, bring one corner of pastry square up to the top of the apple, then bring the opposite corner to the top and press together. Bring up the two remaining corners, and seal. Slightly pinch the dough at the sides to completely seal in the apple. Repeat with the remaining apples. Place in prepared baking dish.
In a saucepan, combine water, white sugar, vanilla extract and reserved butter. Place over medium heat, and bring to a boil in a large saucepan. Boil for 5 minutes, or until sugar is dissolved. Carefully pour over dumplings.
Bake in preheated oven for 50 to 60 minutes. Place each apple dumpling in a dessert bowl, and spoon some sauce over the top.
---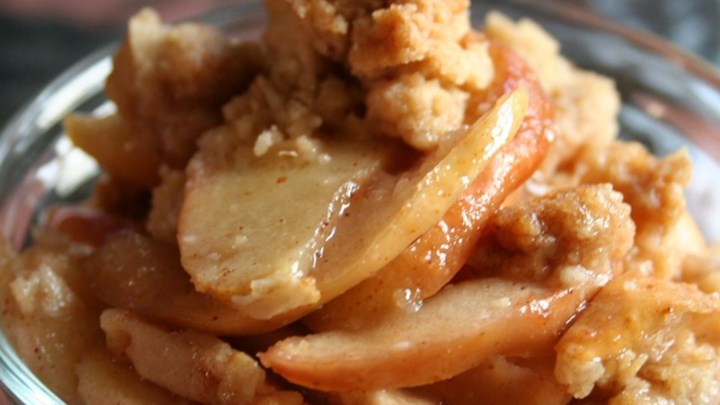 Apple Crisp
10 cups all-purpose apples, peeled, cored and sliced
1 cup white sugar
1 tablespoon all-purpose flour
1 teaspoon ground cinnamon
1/2 cup water
1 cup quick-cooking oats
1 cup all-purpose flour
1 cup packed brown sugar
1/4 teaspoon baking powder
1/4 teaspoon baking soda
1/2 cup butter, melted
Directions:
Preheat oven to 350 degrees F (175 degree C).
Place the sliced apples in a 9x13 inch pan. Mix the white sugar, 1 tablespoon flour and ground cinnamon together, and sprinkle over apples. Pour water evenly over all.
Combine the oats, 1 cup flour, brown sugar, baking powder, baking soda and melted butter together. Crumble evenly over the apple mixture.
Bake at 350 degrees F (175 degrees C) for about 45 minutes.
---
CREAMY TOMATO SHRIMP
2 cups uncooked penne pasta
1 pound uncooked medium shrimp, peeled and deveined
1 teaspoon minced garlic
1/2 teaspoon crushed red pepper flakes
2 tablespoons olive oil
1-1/2 cups spaghetti sauce
1 carton (10 ounces) refrigerated Alfredo sauce
2 tablespoons butter
1/4 teaspoon salt
1/8 teaspoon pepper
2 tablespoons minced fresh parsley
Directions:
Cook pasta according to package directions. Meanwhile, in a large skillet, saute the shrimp, garlic and pepper flakes in oil until shrimp turn pink. Stir in the spaghetti sauce, Alfredo sauce, butter, salt and pepper; heat through.
Drain pasta; serve with shrimp mixture. Sprinkle with parsley. Yield: 4 servings.
---