Recipes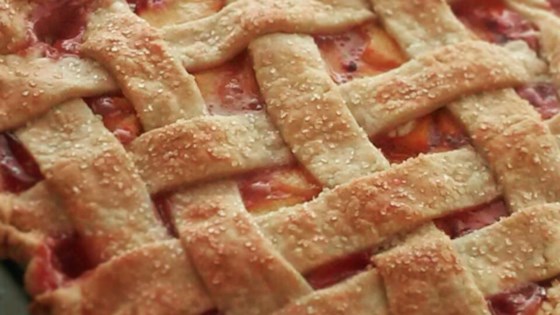 Chef John's Peach Pie
3 pounds fresh freestone peaches, peeled and sliced
1 cup white sugar, divided
1 tiny pinch salt
1/4 cup all-purpose flour
1 tablespoon cornstarch
1 teaspoon lemon juice
1 pinch cayenne pepper
1 pinch ground cinnamon
1 pastry for a 10-inch double crust pie
1 1/2 tablespoons butter, cut into tiny pieces
1 tablespoon heavy whipping cream, or to taste
1 tablespoon white sugar, or to taste
Directions:
Preheat oven to 350 degrees F (175 degrees C).
Stir peaches, 1/2 cup sugar, and salt together in a bowl. Let sit for 20 to 30 minutes. Strain accumulated juices into a saucepan and return strained peaches to bowl.
Bring juices in saucepan to a boil; reduce heat to medium-high, and cook until mixture thickens to a syrup, 5 to 10 minutes.
Whisk 1/2 cup sugar, flour, and cornstarch together in a bowl. Stir lemon juice, cayenne pepper, and cinnamon into peaches; add flour mixture and toss to coat. Pour peach syrup over peach mixture and stir.
Roll out half the pastry to fit a 10-inch pie plate. Place bottom crust in pie plate. Pour peach filling into pie shell, tap pie plate against a surface to settle filling, and dot with butter.
Roll remaining crust into an 11-inch circle and cut into 1-inch strips using a paring knife or pastry wheel.
Lay 5 strips of pie crust over the top of the pie. Weave remaining pastry dough strips through to form a lattice top. Fold the ends of the lattice strips under the bottom crust and crimp the crust. Brush cream over the top and sprinkle with 1 tablespoon sugar.
Bake in the preheated oven until browned and bubbling, about 1 hour 15 minutes. Cool completely before slicing.
---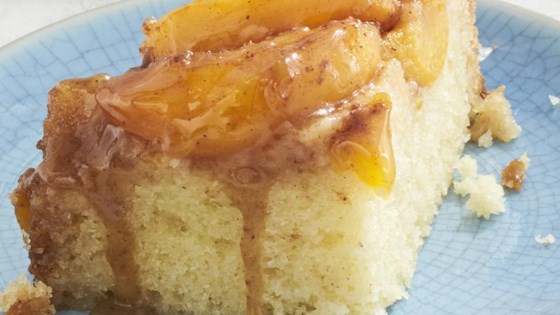 Slow Cooker Peach Upside Down Cake
3 (15 ounce) cans sliced peaches in heavy syrup, drained well
5 tablespoons butter, melted
2/3 cup packed light brown sugar
1 teaspoon cinnamon
1/2 teaspoon nutmeg
1 1/2 sticks butter, softened
1 cup white sugar
2 large eggs
1/2 teaspoon pure almond extract
2 cups flour
2 teaspoons baking powder
1/2 teaspoon salt
1 cup whole milk
Directions:
Spread peach slices between several layers of paper towels and let dry, gently pressing occasionally and replacing any soaked towels, 20 minutes.
Meanwhile, pour melted butter over bottom of a 6-quart oval slow cooker. Stir together brown sugar, cinnamon, and nutmeg in a bowl and sprinkle over butter.
Arrange peaches in a tight layer over brown sugar. (You may need to make a partial second layer to fit them all in.)
Beat softened butter with white sugar in a large bowl with an electric mixer until light and fluffy, about 3 minutes. Beat in eggs, 1 at a time, beating well after each addition. Beat in almond extract.
Whisk together flour, baking powder, and salt in a separate bowl. Working in batches, stir flour mixture into egg mixture alternately with milk, beginning and ending with flour mixture. Mix batter until well combined. Spoon over peaches and spread evenly.
Drape paper towels over top of slow cooker (to absorb any condensation during baking), then cover with lid. Cook on High until a wooden skewer inserted into center of cake comes out clean, 2 to 2 1/2 hours.
Remove lid and paper towels. Using oven mitts, remove ceramic liner from slow cooker and let cool 10 minutes. Run a knife around edge of cake and carefully turn out onto a serving platter.
---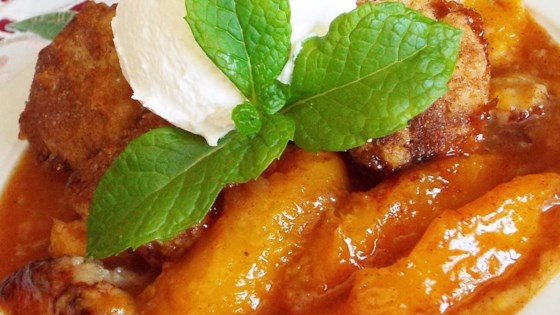 Fresh Southern Peach Cobbler
8 fresh peaches - peeled, pitted and sliced into thin wedges
1/4 cup white sugar
1/4 cup brown sugar
1/4 teaspoon ground cinnamon
1/8 teaspoon ground nutmeg
1 teaspoon fresh lemon juice
2 teaspoons cornstarch
1 cup all-purpose flour
1/4 cup white sugar
1/4 cup brown sugar
1 teaspoon baking powder
1/2 teaspoon salt
6 tablespoons unsalted butter, chilled and cut into small pieces
1/4 cup boiling water
MIX TOGETHER:
3 tablespoons white sugar
1 teaspoon ground cinnamon
Directions:
Preheat oven to 425 degrees F (220 degrees C).
In a large bowl, combine peaches, 1/4 cup white sugar, 1/4 cup brown sugar, 1/4 teaspoon cinnamon, nutmeg, lemon juice, and cornstarch. Toss to coat evenly, and pour into a 2 quart baking dish. Bake in preheated oven for 10 minutes.
Meanwhile, in a large bowl, combine flour, 1/4 cup white sugar, 1/4 cup brown sugar, baking powder, and salt. Blend in butter with your fingertips, or a pastry blender, until mixture resembles coarse meal. Stir in water until just combined.
Remove peaches from oven, and drop spoonfuls of topping over them. Sprinkle entire cobbler with the sugar and cinnamon mixture. Bake until topping is golden, about 30 minutes.
---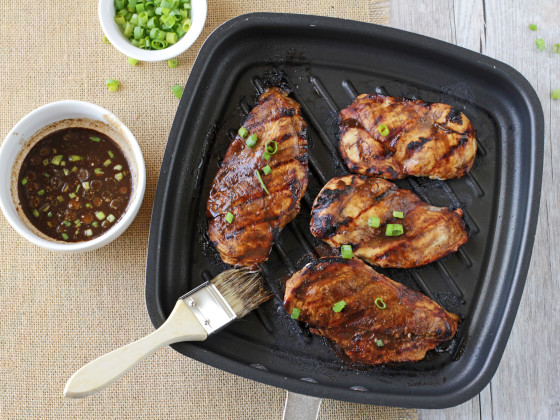 Grilled Balsamic Chicken
8 boneless skinless chicken breast halves
1/2 cup chicken broth
1 cup balsamic vinegar
1 1/2 tablespoons Worcestershire sauce
2/3 cup chopped scallion
2 tablespoons minced garlic
2 teaspoons dry mustard
1 teaspoon fresh ground pepper
2 tablespoons sugar
1/4 cup Dijon mustard
Directions:
Rinse chicken, and pat dry. Place in a gallon-size zip-top plastic bag. Combine chicken broth and next 8 ingredients in a mixing bowl.
Reserve 1/2 cup marinade; pour remaining marinade over chicken. Seal bag, and refrigerate up to 24 hours, turning occasionally.
Grill chicken, uncovered, at medium-high for 6 minutes on each side or until cooked through, basting with reserved 1/2 cup marinade every few minutes. Done when juices run clear.
---