Recipes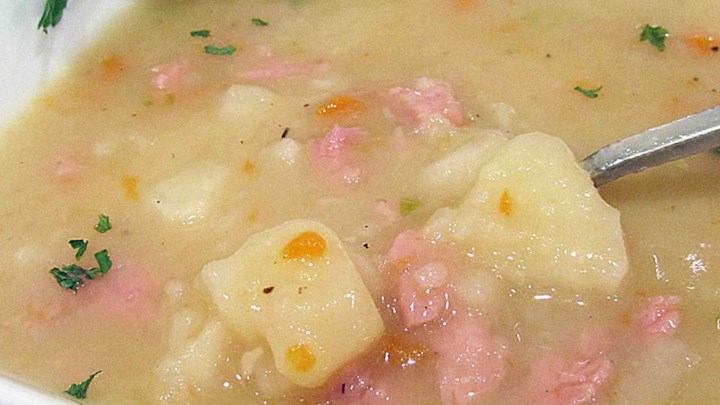 Ham and Potato Soup
1 1/2 pounds Yukon Gold potatoes, peeled and diced
1 medium onion, diced
1 medium carrot, diced 1 rib celery, diced
8 ounces smoked ham, diced
3 cloves garlic, sliced
3 tablespoons butter
1/4 cup flour
4 cups chicken broth
2 cups water
1/2 cup heavy cream
salt and pepper to taste
cayenne pepper (optional)
chopped fresh chives for garnish (optional)
Directions:
Melt butter in a stockpot over medium heat until golden brown. Stir in carrot, celery, onion, ham, and garlic; cook and stir for 5-6 minutes, until the vegetables soften and the onions are translucent.
Stir in flour; cook for about 3 minutes. Stir in chicken broth, 1 cup at a time. Add water and stir to combine. Turn the heat to high and bring to a simmer. Simmer on medium-low for 15 minutes, stirring occasionally.
Taste the soup for salt and add more if necessary. Stir in potatoes; cook for 15 minutes, until potatoes are tender. Skim fat if desired.
With a potato masher, mash the soup a few times, leaving plenty of whole chunks of potato. Season with salt and pepper to taste, add cayenne if desired, and add cream. Stir to combine and heat through. Garnish with fresh chives.
---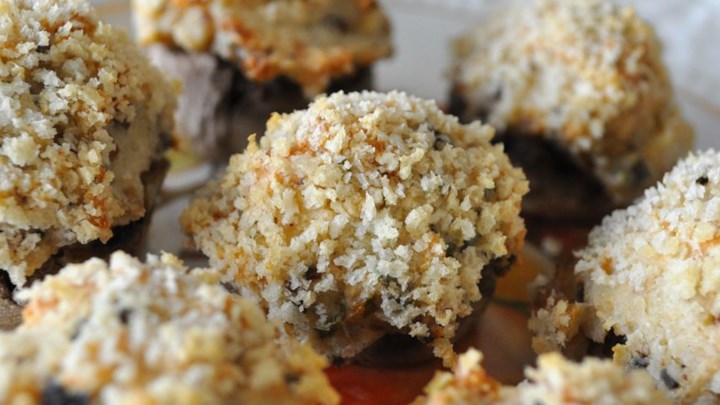 Mouth-Watering Stuffed Mushrooms
12 whole fresh mushrooms
1 tablespoon vegetable oil
1 tablespoon minced garlic
1 (8 ounce) package cream cheese, softened
1/4 cup grated Parmesan cheese
1/4 teaspoon ground black pepper
1/4 teaspoon onion powder
1/4 teaspoon ground cayenne pepper
Directions:
Preheat oven to 350 degrees F (175 degrees C). Spray a baking sheet with cooking spray. Clean mushrooms with a damp paper towel. Carefully break off stems. Chop stems extremely fine, discarding tough end of stems.
Heat oil in a large skillet over medium heat. Add garlic and chopped mushroom stems to the skillet. Fry until any moisture has disappeared, taking care not to burn garlic. Set aside to cool.
When garlic and mushroom mixture is no longer hot, stir in cream cheese, Parmesan cheese, black pepper, onion powder and cayenne pepper. Mixture should be very thick. Using a little spoon, fill each mushroom cap with a generous amount of stuffing. Arrange the mushroom caps on prepared cookie sheet.
Bake for 20 minutes in the preheated oven, or until the mushrooms are piping hot and liquid starts to form under caps.
---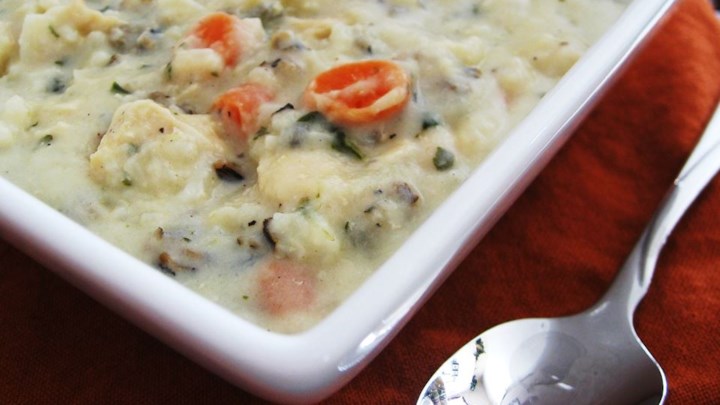 Creamy Chicken and Wild Rice Soup
4 cups chicken broth
2 cups water
2 cooked, boneless chicken breast halves, shredded
1 (4.5 ounce) package quick cooking long grain and wild rice with seasoning packet
1/2 teaspoon salt
1/2 teaspoon ground black pepper
3/4 cup all-purpose flour
1/2 cup butter
2 cups heavy cream
Directions:
In a large pot over medium heat, combine broth, water and chicken. Bring just to boiling, then stir in rice, reserving seasoning packet. Cover and remove from heat.
In a small bowl, combine salt, pepper and flour. In a medium saucepan over medium heat, melt butter. Stir in contents of seasoning packet until mixture is bubbly. Reduce heat to low, then stir in flour mixture by tablespoons, to form a roux. Whisk in cream, a little at a time, until fully incorporated and smooth. Cook until thickened, 5 minutes.
Stir cream mixture into broth and rice. Cook over medium heat until heated through, 10 to 15 minutes.
---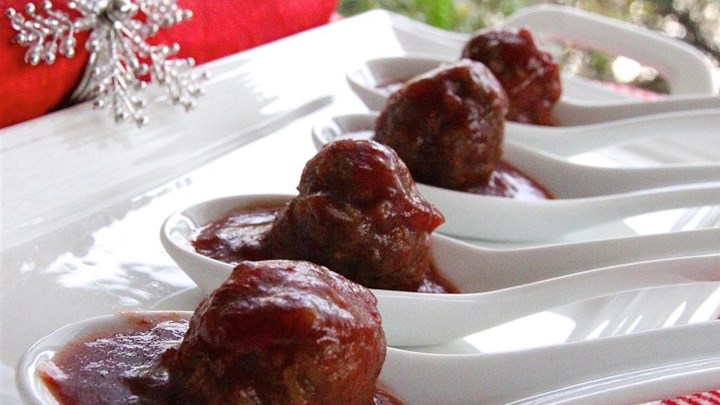 Cocktail Meatballs
1 pound lean ground beef
1 egg
2 tablespoons water
1/2 cup bread crumbs
3 tablespoons minced onion
1 (8 ounce) can jellied cranberry sauce
3/4 cup chili sauce
1 tablespoon brown sugar
Directions:
Preheat oven to 350 degrees F (175 degrees C).
In a large bowl, mix together the ground beef, egg, water, bread crumbs, and minced onion. Roll into small meatballs.
Bake in preheated oven for 20 to 25 minutes, turning once.
In a slow cooker or large saucepan over low heat, blend the cranberry sauce, chili sauce, brown sugar, and lemon juice. Add meatballs, and simmer for 1 hour before serving.
---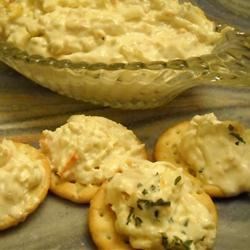 Hot Crab Dip
6 tablespoons cream cheese
1/2 cup mayonnaise
7 1/2 ounces canned crabmeat, drained
4 tablespoons minced onion
1 tablespoon lemon juice
1/2 teaspoon hot pepper sauce
Directions:
Preheat oven to 350 degrees F (175 degrees C).
Beat cream cheese and mayonnaise until smooth. Stir in the crabmeat, minced onion, lemon juice and Tabasco sauce. Spoon mixture into a small oven-proof dish that has been sprayed with cooking spray.
Bake at 350 degrees F (175 degrees C) for 20 minutes or until the sauce is bubbly. Serve with crackers, potato chips or tortilla chips. You can also use fresh crabmeat in place of the canned crabmeat.
---